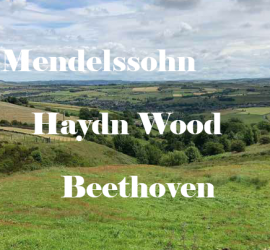 Sunday 22 September 2019
3:00pm Slaithwaite Civic Hall
Our 2019-20 Season Launch
Mendelssohn
Fair Museline Overture
Haydn Wood
Love in Arcady, Pleading, Serenade to Youth
Beethoven
Piano Concerto No 4
Join us for our Season Launch concert in Slaithwaite Civic Hall.
Pianist Chris Pulleyn joins us in Beethoven's Fourth Piano Concerto, we open with an overture by Mendelssohn, and we feature pieces by Slaithwaite-born Haydn Wood in the 60th anniversary year of his death.
Tickets £9 adults, £6 children, include complimentary afternoon tea.