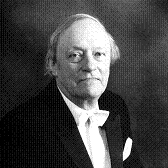 Adrian Smith died on 6 December 2005 following a period of illness. Adrian was our conductor from 1969 to 2001, an amazing 32 years of service. He was without question the most influential musician in the long history of the SPO, taking over at a time when the orchestra had only a handful of members and was near extinction. His personal contribution to the development of the SPO cannot be overstated.
Writing at the time of Adrian's last concert in 2001, our then President, Ian Denton, said of him:
It was his almost single-handed enthusiasm which provided the impetus in his early years with the orchestra, and it has been his unswerving vision of what music-making should be all about, and of what might be achieved by an amateur orchestra that has brought about its renaissance.
Many tributes have been paid to Adrian and we are grateful to the MusicWeb for hosting these on their site.
Visit MusicWeb for more tributes to Adrian.